At Macair, Inc., excellence permeates everything we do. It's simply how we run our company. It matters that you get responses to your every need. It matters that we keep unblemished safety records for your peace of mind. And, it matters that we operate with ethics as impeccable as our aircraft.
We are a diversified corporate aviation services company specializing in domestic and worldwide aircraft charters, sales, management and acquisitions. Founded in 2000, we are widely regarded for our significant experience, personalized service and award-winning safety practices.
We operate and manage a diverse fleet of jet aircraft ranging from light jets, such as the Citation CJ4, to intercontinental jets like our Gulfstream V. As a boutique management and luxury aviation charter operator, we take great pride in our aircraft, the quality of service we provide, and our people. These elements form our core values and have shaped Macair into the business it is today. Based in Orange County, California, Macair, Inc. has paved the way for charter operations in and around the area, setting the bar for excellence in the charter aircraft industry.
As our private aircraft fleet expands, so does our commitment to providing the same superior service to our charter customers and the owners of the aircraft we manage.
We take great pride in our aircraft, the world-class hospitality we provide and, a client-centric focus, and most importantly the safety of our passengers. These elements form our core values and have shaped our company into the expanding business it is today. Even with the growth of our company and fleet, we consider our responsibility to our passengers and the owners of the aircraft we manage to be a top priority. We provide our clients with a 24/7 concierge service readily available to cater to their needs.
Our objective is to provide the best service possible, from our pilots and cabin attendants to our scheduling and maintenance departments. From high profile cel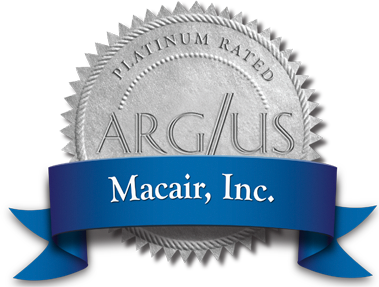 ebrities, to Fortune 500 companies, to international dignitaries, Macair has been serving our clients for over a decade. Attention to detail and outstanding customer service are the reasons we continuously turn a one-time flyer into our regular customer.
Safety & Security
Macair, Inc. knows that without safety, the luxuries and convenience of air charter travel mean nothing. We are deeply committed to safety, quality and continuous improvements including ongoing training and stringent reporting. Macair, Inc. has received a number of world-recognized safety certifications including: ARG/US International Platinum Rating for 10 consecutive years and the International Standard for Business Aircraft Operations (IS-BAO). Our air crew has 4x the experience and training required by the FAA, and our aircraft are meticulously maintained at each individual factory service center and monitored daily by our seasoned maintenance department.