Worldwide Aircraft Charters
The range of aircraft types and locations offered by the charter department are unlimited.  Whether you require a small jet for your regional trips or a full-sized aircraft like our Gulfstream V for international travel, our team is standing by to customize your travel arrangements to suit your needs. There's no need to think about the details of international travel, aircraft handling, permits and restrictions, airport and noise restrictions, or passenger amenities.  This is all handled in thorough detail by our trained experts who will, based on that information, best match you to the most efficient aircraft for your trip.
Every time you board our aircraft, you can rest assured through our stringent ongoing safety requirements, your private jet is diligently maintained, completely safe and secure, and operated by crew members that have received extensive training.
ARG/US Platinum Certification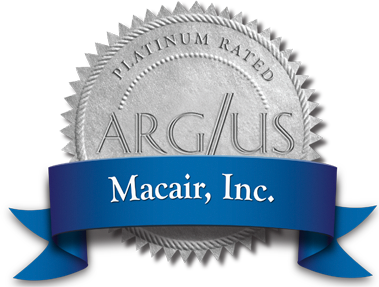 Platinum Rating – The highest level of ARG/US safety rating is awarded to those operators who meet the criteria for Silver and Gold, and successfully pass either an ARG/US on-site safety audit, or a recent Department of Defense (DoD) Air Carrier Quality and Safety inspection. The ARG/US audit is conducted identically to a Department of Defense audit by former DoD inspectors. This is a constructive, operational and system oriented evaluation to help identify and correct potential deficiencies or safety issues. The Platinum rating is awarded to charter operators who maintain only the strictest standards in quality and safety excellence.
Since August 2005, ARG/US International has consecutively awarded Macair their highest rating – the Platinum rating – for its focus on providing flights of the highest quality and emphasis on the most stringent safety standards.
Crew
Our experienced pilots receive professional training twice a year from the best flight simulator and other computer generated training facilities in the industry. Our friendly, service-oriented pilots and cabin attendants are eager to provide on-time, safe, reliable, and luxurious air transportation to you, our valuable customers.
FAQ