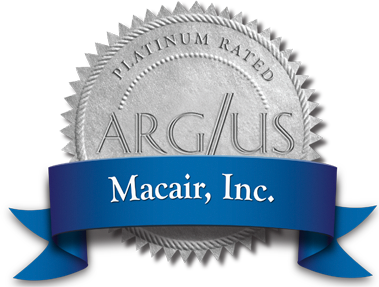 Last week we spoke about Macair's IS-BAO certification, a regular 3rd party objective auditing program that scrutinizes every facet of our aviation operation. Along with our IS-BAO certification, we are also among a select few operators who are rated PLATINUM by independent safety auditors ARG/US — the highest safety rating achievable in civil aviation— and we've held this prestigious accolade for a decade!
The Platinum rating is ARG/US' highest level of safety ratings and is awarded only to those air charter operators who have demonstrated successful implementation of industry best safety practices. Considering the ARG/US Platinum rating is widely recognized as the ultimate acknowledgement of excellence in private aviation, it's important for us to relay what they think of us. We've held  the ARG/US Platinum rating for 10 straight years, putting us in an elite group of only 107 operators worldwide who share the same distinction.
Whether we're chartering your family across country in style, or our aircraft management team is making sure your corporate jet is earning you money while not being used, our highest priority, company-wide, is safety.
"Excellence" is what we strive for, it's what we are guided by, and it's what we provide our customers. We can repeat it a million times, but we'll let the ARG/US rating speak for us this time.