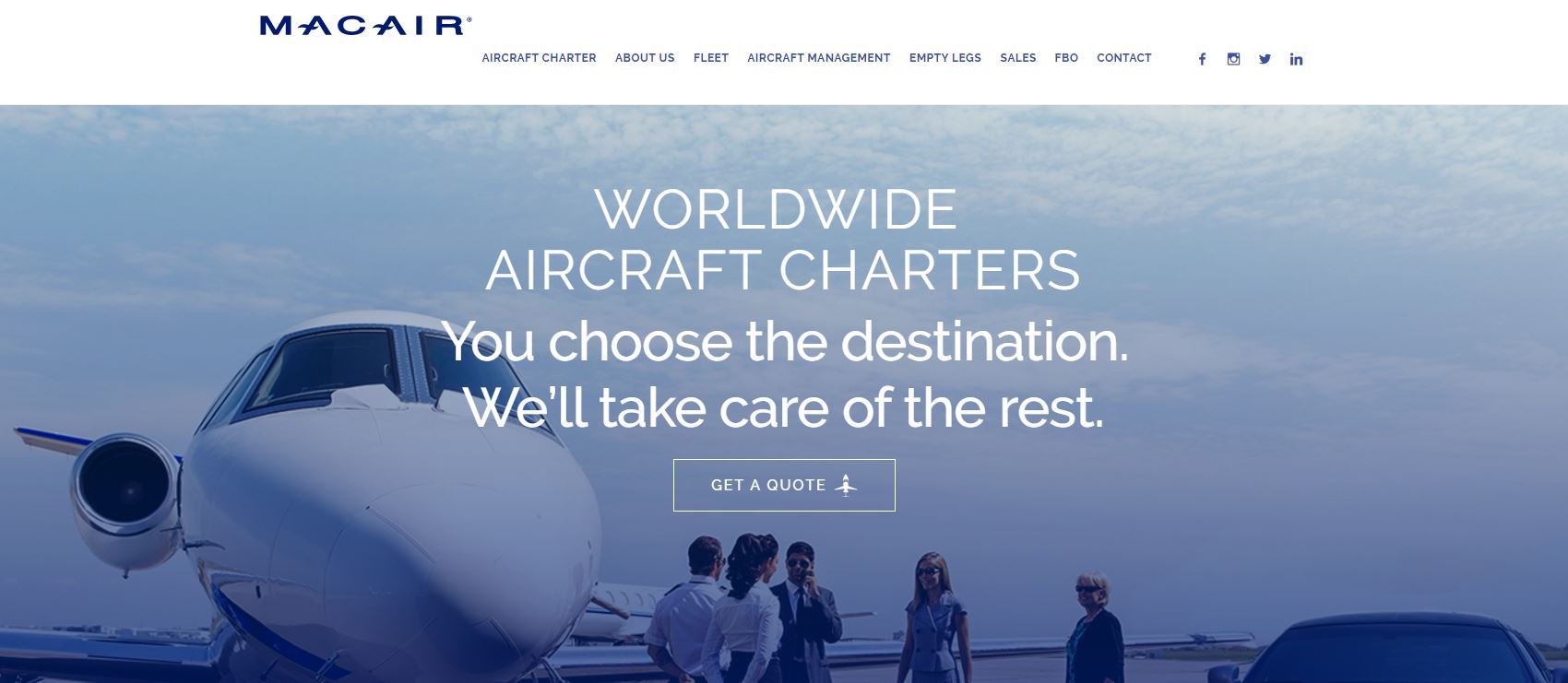 We are very excited to announce the launch of our newly designed website! The site's homepage features Macair, Inc.'s "signature blue" and an uncluttered, navigable design. We wanted to make the new website faster, easier to navigate, and more user-friendly.
As a worldwide charter operator leader, it's important for us to make information regarding our fleet, services and empty leg flights easily accessible for our current and prospective clients. We endeavor to provide our clients with the most accurate, up-to-date information and share our knowledge and expertise in the field of business aviation.We also wanted to give our clients an opportunity to know us better and who we are as a company. By browsing through our About Us, Aircraft Management and Maintenance sections, you'll get a pretty good idea of who we are and what we do, and why excellence permeates everything we do. When redesigning our site, we included our "signature blue" to evoke trust, loyalty, security and strength– qualities that our clients use when describing Macair. Our clients are always our first priority and we plan for it to stay that way.
You'll find our new site is divided into nine main sections: AIRCRAFT CHARTER; ABOUT US; FLEET; AIRCRAFT MANAGEMENT; EMPTY LEGS; SALES; FBO; BLOG; and, CONTACT US. We shifted to a client-centric layout so our clients could easily navigate our site and locate the information they need. The AIRCRAFT CHARTER section provides detailed descriptions of the charter services and solutions Macair, Inc. proudly offers. We have dedicated our FLEET section to detail the aircraft that are available to our clients, while our AIRCRAFT MANAGEMENT section provides in-depth detail on the turnkey management services we provide.
In the ABOUT US, you can read our Company Overview, meet our Leadership Team, and learn what sets us apart from other worldwide aircraft operators. In CONTACT US, you can view our Locations and learn how to contact us.
Our Macair, Inc. team has worked hard to put together this website, rich in information, to be used as a resource. We pride ourselves on being a leader in the international private aircraft charter field and look forward to hearing any feedback from you.
If you experience any problems using the new website or if you have any questions, please contact us at info@macairinc.com.