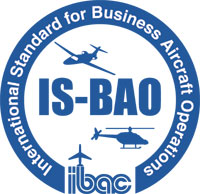 "We are what we repeatedly do. Excellence, then is not an act but a habit." Aristotle inked the phrase back in the 300s BCE and we still abide by it today.
When it comes down to our over 100 years of combined aviation experience, "excellence" isn't just a term we throw around for marketing materials, it's a term we've spent years earning, maintaining and letting permeate throughout the ranks of our company.
As part of this record of excellence, Macair is registered to and audited by the International Standard for Business Aircraft Operations (IS-BAO). We face regular IS-BAO audits that are regarded as the standard for aviation operations. IS-BAO audits are recognized by both the NBAA and the European Business Aviation Association, built around a Safety Management System (SMS) which helps evaluate and mitigate risk, and continuously improve our practices and procedures. These audits are systematic, objective reviews that scrutinize every facet of our aviation operations.
The comprehensive list of things IS-BAO covers:
SMS requirements
organization and personnel
standard operating procedures
training programs
flight operations
operations in international airspace
aircraft equipment requirements
aircraft maintenance requirements
company operations manual
emergency response plan
environmental management
occupational health and safety
transportation of dangerous goods, and security
For more information on the IS-BAO certification and audits, please feel free to visit the ISBAOAudits.com for further literature.